New from 18th May 2021, – A celebration of 100 years of Morecambe FC. – The Shrimps.
The New Location – from 1st April 2018
We have moved to our new home in the Arndale in the centre of Morecambe and are showing a varied selection of our material including photos, theatre programmes and crested ceramics. We can be found directly opposite Home Bargains and there is now Free Entry, so pop in and say hello.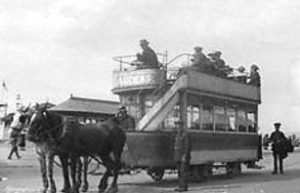 The Great War and Whitehall by the Sea – from 15th April 2017
We are proud to have The Great War Heritage Project with us at The Morecambe Heritage Centre for this year and next. Paul Lomax has been collecting memorabilia and a whole host of artefacts from the battlefields of the First World War. Much of his material is on display along with material brought in by several local people and supporters of the Project. Some of his items were used in the making of the film 'Warhorse' and these are on display too. Morecambe was used in World War Two to house people from The Ministry of Defence and became known as Whitehall by the Sea. This forms part of the exhibition, so come along and find out more.
Beauty Surrounds – from 27th May 2016
This wonderful archive, collected by Dorothy Fisher, forms the basis for this exhibition. For 28 years she organised the Miss Great Britain event and was a second 'mum' to the girls.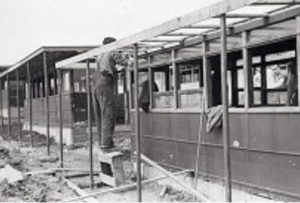 Next Stop Morecambe! from 16th January 2016
Pulling in to Morecambe Heritage this weekend and for the foreseeable future is a guest exhibition of Morecambe district railwayana. From today we are opem at weekends 11am to 4pm. Travel back in time and marvel at the golden age of steam and the complexity of our past transportation links.
Saturday 3rd October 2015
Today is Free Entry to Morecambe Heritage and we are also extending our opening hours to 7pm. We are having drinks and nibbles at 5pm so come along and join in.
This weekend we have our open afternoon, and next week is the last chance to see our variety exhibition before it is packed away for its next showing in London. We have just welcomed our 2000th visitors Frankie and Dave Cox and Barbara and Reg Collier from Potters Bar, Bedfordshire. Here's hoping this weekend will be the busiest yet!
Thanks again everyone for all your support.
Saturday & Sunday 5th & 6th September 2015
Has it really been a year since the last Vintage Festival? Once again the town was buzzing and locals were mixing with vistors, many in vintage style dress. Our own Lucy and Ivan manned a table outside and wore their own take on vintage. Debbie was busy showing vistors the exhibition while other members were taking up positions to further the aims of the centre.
3,269 total views, 3 views today