…the coastline and bay…
Some useful links – Creating a Heritage Centre for Morecambe takes teamwork and the following sites have had some part in our development.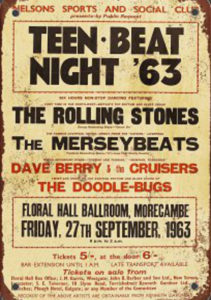 This project was supported by the Arts & Social Sciences Centre of Lanaster University.
Explore Lancaster's golden age and rich maritime and natural history.
Lancaster City Museum is housed in the former town hall in the Market Square and includes the King's Own Royal Regiment Museum.
Workshop Media is a content marketing company based at CityLab in Lancaster. They combine the skills of content production with the marketing principles of business to business communication.
The Great War Heritage Project, a non-profit organisation, is based in Morecambe. The aims of the project are to raise funds to help find permanent premises to house a lifetime's collection of Great War artefacts in time for the 100th anniversary of the end of the Great War in 2018. They promote this by allowing school visits and the public access to this wonderful resource. All monies raised go towards achieving this goal.
The Carleton sits on the first floor of the Alhambra Building in Morecambe's West End. Currently undergoing extensive renovation, the owner Ian Bond, has an interest in preserving this part of Morecambe's history. Once completed he hopes it'll become a leading venue in the north-west of England.
Main image © Photos Rule!
2,689 total views, 4 views today